The title says it all. RJ Writing Ink has pretty good post discussing the announcement, so I'll let him explain it to you. But……..yeah; "Anime CONFIRMED," b!tch. And let me tell you right now: This Chapter Is Going To Be An AMAZING Episode. I'm so glad this is getting an anime. I always talk about how cool it would be, but I just can't believe it's happening. What's more is…….you know what- I'm gonna save that for the end. Edens Zero Chapter 98: "Advent of The Demon King." And to celebrate the announcement of the anime: 7 Color pages and a colored page!
The first 7 pages of the chapter are just Mashima sensei flexing his fan service muscles. It shows various female characters in the series in bikini's and such posing like they're gonna be on a magazine. First off is Labila and Rebecca in bikini's and such. The next 2 are very Homura centric, and the next in particular shows off Human Pino. Cover number 3 sees Rebecca finishing painting her nails while Homura gets a tan. Man Mashima is good at fan service!
Page 5 is of the original Shining Stars(Valkyrie returns here) and Pino in a circle. The next is Rebecca- once again in a bikini- licking a giant Ice Cream Cone. Good LORD I love Hiro Mashima! Then we get into a colored page of the chapter that just jumps around the battle: From Rebecca and Homura being molested by Drakken's tentacles, to Amira, Moscoy, and Pino running from the collapsing Life Support Room, to the Shining Stars dealing with the Satellite Blaze, to Demon King Shiki. Now that he's in color; we see that his full Overdrive turned his hair white and his Ether gear patterns and eyes have turned purple. I know it's in black and white, but in most of the material I've seen of Shiki; his Ether gear has always been green in color. But here it's purple(which was the color I initially thought it was). And of course; the black collar is popper.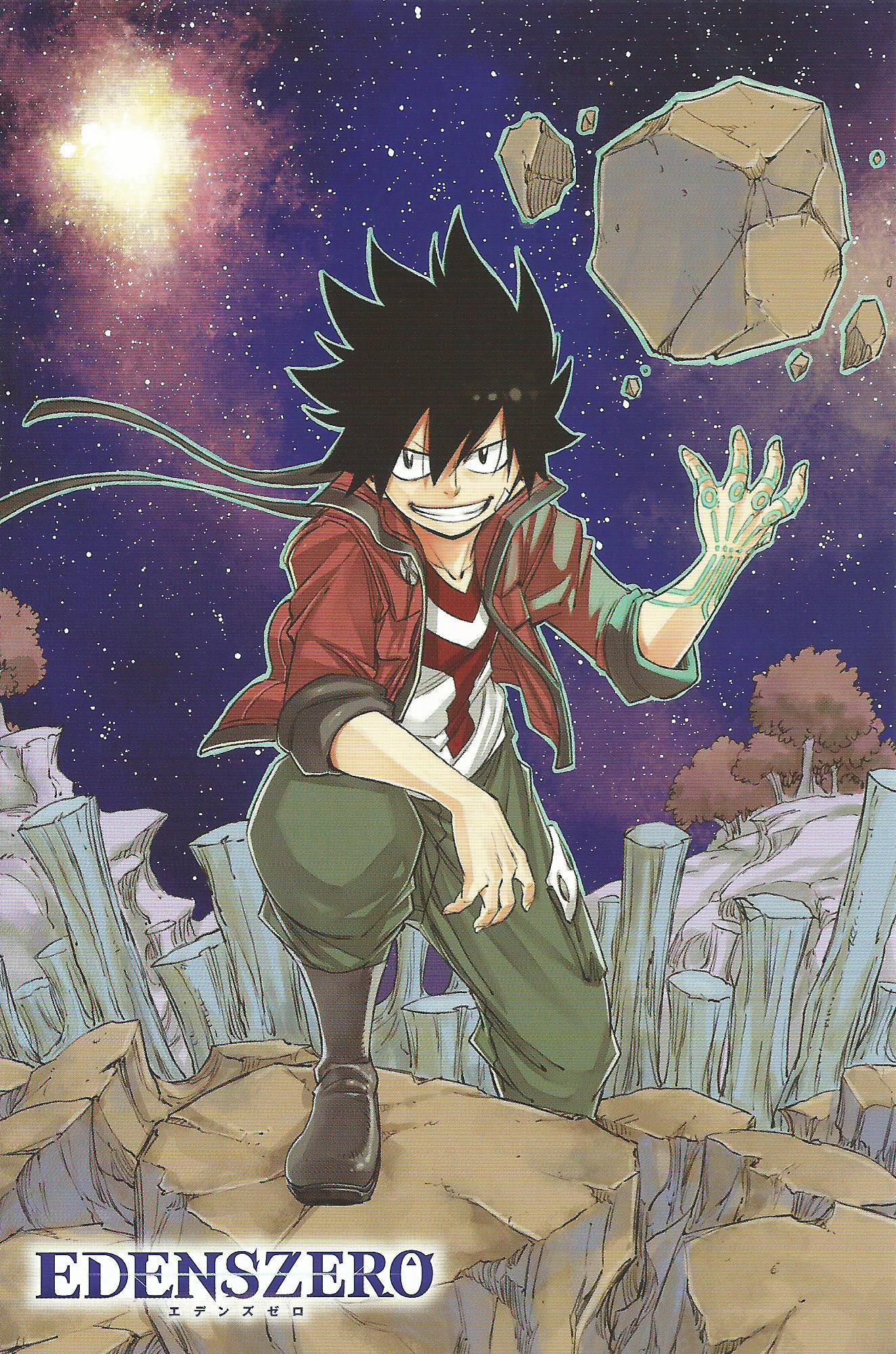 The next cover page is just the announcement- depicting the crew in a line up. Something I've noticed: Sister is always next to Weisz in this kind of thing. Thinking about all the coverpages that feature the whole crew. Is Sister not always touching his shoulder? Or is she next to a different character ever? Or am I looking too much into this? "Probably," right?
The next page is the actual chapter(Man; we'd usually be halfway through the review by now. Those were just the cover pages!): Demon King Shiki is staring down the tentacle mass that used to be Drakken Joe- the most feared loan shark in the Sakura Cosmos. Weisz barely manages to look up to see that Shiki is different now: his ripped up clothing is now replaced with a pitch black vest, and arms like charcoal. Drakken continues screaming "GIVE ME LIIIIFE!!!!!" He tries to bring his fist down, but…….No. None of that now. Shiki catches the Behemoth's fist-only scooting back slightly from the impact. With his other hand; he draws it back, and begins charging as much gravity as he can into it. The Execution Site begins to collapse and fall apart- chunks of gravel flowing towards Shiki. You Know What This Is: Shiki's Become A Black Hole.
On the Edens Zero; Hermit mentions that there's a "high density Ether reading" emanating from the Belial Goer. Sister says it's Shiki, and Witch tells them that he's finally managed to achieve Overdrive. Meaning that they can focus on destroying the Satellite Blaze. They fire off a few rounds, but it has a protection matrix; a barrier is protecting it from the ships blasters. So Witch suggest they use the Main cannon. Hermit warns that they don't have half the energy required for it to work. Witch comes up with an alternative: Using Their Own Ether to power it. They plug in these cables to their shoulders, and it immediately begins drawing ether from them.
Back in the Berial Goer; Rebecca is getting a tentacle massage- courtesy of Drakken. Mashima takes it to the next level by having a Joe-facsimile say "Give it give it give it MINE." Man; he just loves to do stuff like that.
Unfortunately; Homura can't use her Soul Blades because she's also tied up in tentacles. Enter- Happy! He turns into the Happy Blasters, and Rebecca starts shooting her way out of this. Once she frees Homura; the girls get to work slicing and blasting their way out. It's honestly a very well done sequence that demonstrates the amount of trust and level of cooperation the crew has. I KNOW I've said it before; but I really like how Mashima is utilizing the "Power of Friendship" idea in this series compared to what he used it for in Fairy Tail. It's not some "random" power up- Shiki's full Overdrive transformation was foreshadowed before it happened. What it should be is teamwork, and how much they trust in each other. It's what makes this work stand out among his others.
I'm only up to chapter 201 of Rave Master, and I think that it's a really good series, but I don't think I like……..how do I phrase this? I think Elie is a great character(she's much better than Lucy was in terms of personality, but…….Lucy's REALLY attractive), but she's kind of a "damsel in distress" more often than I would like. Like; she can fight, but I she's so often outclassed(especially in the chapters I've been reading) that it kind of feels like she's………I can't think of the word. "A trophy?" "Someone who has something everyone wants?" I guess the latter would be more appropriate.
Anyway; Homura and Rebecca are tearing sh!t up, and Rebecca's Cat Leaper starts flaring up(also a shot of her butt). She calls the Drakken-facsimile "gross" before blasting it to bits.
We then go back to Demon King Shiki-who's still collecting gravity in his fist. I'm surprised Drakken hasn't tried to move back or anything. Not trying to break away from him right now is like saying "Please kill me." We get a close up to Shiki's face, and……..his teeth have sharpened. If you remember last week; you know that I had my reservations about this being Shiki's Full Overdrive state-based on what Drakken became when he went Full Overdrive. But THIS-I'm convinced now.
Weisz sits up, and looks at Shiki charging his attack. His looks is that of "puzzled," "scared," and "in too much pain to care." Drakken's face isn't emoting at all, and Shiki's is "I'm Gonna Kill You." He uses Gravity to blow the tendral he was holding to pieces, causing Drakken great pain. Back on the Edens Zero; the "Star Bringer(main cannon)" reaches half power- which is all they need. "3…….2……1." When the cannon fires; the Satellite Blaze is blown to pieces!
We cut from the exhausted Stars to Rebecca and Homura ripping more tentacles apart. It lloks like Happy's out of energy, so Rebecca's resorted to kicking the sh!t out these things. That, plus what Shiki just did to his hand, makes Drakken wail in agony. The Alchemist looks in this Demons eyes, and his backstory is revealed. DRAKKEN JOE FLASHBACK-right now, actually. Man; long chapter. I don't even think the double chapter week took up this much time. Then again; I'm getting sidetracked a lot here.
ORIGIN: Drakken Joe was born on a scientifically advanced planet over 200 years ago. The children on this planet were test subjects for some unseen faction. And, while the other kids were content with living a short, seemingly-okay life; young Drakken wanted more. He wanted to grow up big and strong……..meet lots of people…….even make friends. He ran- looking for any way he could to change his fate. And then; he stumbled upon a book-about Alchemy: "The secret art of changing one type of matter into another." From this; the thought emerged in the desperate boys mind: "If I could change other peoples lives………into mine……….." Thus; the Drakken we know today. Well; almost.
What it seems is that Drakken's desire to live and seeming-fear of death drove him to be the manipulative, uncaring individual we know him to be today, and the want for money is what he thought would "fill the void" of having no friends. And after 200 years of all of that; he either repressed it, or he told that lie to himself so many times that he started believing it. But his actions are not justified- nor does this keep Shiki from………..doing what he does next.
Shiki…….okay; this is trippy. SO: Do you remember how Rebecca felt like she was "falling" back in time with Cat Leaper? She could feel gravity pulling her down. So we know that her time travel also has something to do with gravity. Thus; "Shiki is the key to the cat's power." And when Rebecca turned on Cat Leaper; it reacted to Shiki's Overdrive- and the memories from the past world "fell" into this one. It's why Pino remembered what Weisz said about Sibir last week, and why Shiki is remember world 29 as well. And Drakken's past memories were also brought into this world, and they "fell" into Shiki. So he's not only a black hole for jusnk right now- He's a "Black Hole For Memories."
Shiki gets in a stance, and bring back his right arm. Once again; he charges a sh!t load of gravity into his fist. His final words to Drakken: "You've lived long enough………It's time for you to go to sleep." The gravity ball expands around his fist- growing larger than his entire body. Magimech Attack: METEOR BREAKER!!!!!!!!!!!!!!!!!!!!!!!!!!!!!
Shiki uppercuts Drakken- destroying his grotesque, mutated body. Out of it comes the man himself- coughing up blood. Weisz is left in awe at the sight of Shiki's might. Edens Zero Chapter 98 END. And THAT, party people, is how you get yourself an anime.
This chapter was LEAPS AND BOUNDS better than chapter 81. I think everyone following the series is unanimous on this: This is Mashima's best arc……best artwork…..best CHAPTER in his time as a mangaka. And I'm saying that based on what I've seen of his work thus far. The only "problem" I can foresee coming from this is how he plans to "top" this. I mean; what can you do?! RJ Writing Ink was right about this being the cap-off of the Sakura Cosmos saga- we'll be leaving this section of space rather soon. I think a few coo down chapters with exposition mixed in(and vice versa) and then we'll be moving on. So what's he gonna do next? Aqua Cosmos saga? They do still need to take Connor home, right? Remember Captain Connor? "Edens One" Captain? That guy we haven't seen since the events of chapter 83–Wait a minute. That was still part of World 29. When Rebecca leaped back through time; certain things changed(when she woke up after passing out in the Spa of Edens, for example). Connor wasn't booted, was he?
I don't think he was, but we haven't seen him in a while now. It makes you wonder.
In any case; this was the best chapter of the series so far- BAR: NONE. Fan service cover pages, the announcement of an anime release, learning more about the best villain in the series(thus far) and one of the greatest anime villains overall, Shiki displaying what he can do with this new power, the art on FIRE- Pretty Fre@kin' Wild. And for sh!tz and giggles; the a cover page!
And you know what; one more!
And don't for~get: ANIME RELEASE CONFIRMED! So yeah; later!
I hope they all the images I put here stay up.